GlobalMedic's RescUAV Program uses sophisticated technology to collect important information fast following a disaster. Our specialty team deploys Unmanned Aerial Vehicles into disaster situations to collect this information. The UAVs are used to provide situational awareness, emergency mapping and search and rescue.
Following a disaster, Situational Awareness is critical. Our teams can relay information in real-time to responders on the ground to identify hazards, damaged infrastructure, and assess issues to reaching communities in need. This allows responders to deliver aid as quickly as possible to those who are in the greatest need.
Conducting Emergency Mapping operations produces detailed 3D maps in real-time to provide invaluable data in both emergency and non-emergency settings. This precise data can tell us exactly what roads are inaccessible, how agriculture has been affected, and how to start rebuilding communities. We also make all of our data – all our images, orthomosaics, analysis, etc – freely available to the humanitarian sector, local authorities, and governments. This "open source" sharing of our data products means that we maximize the benefit of all the work we do.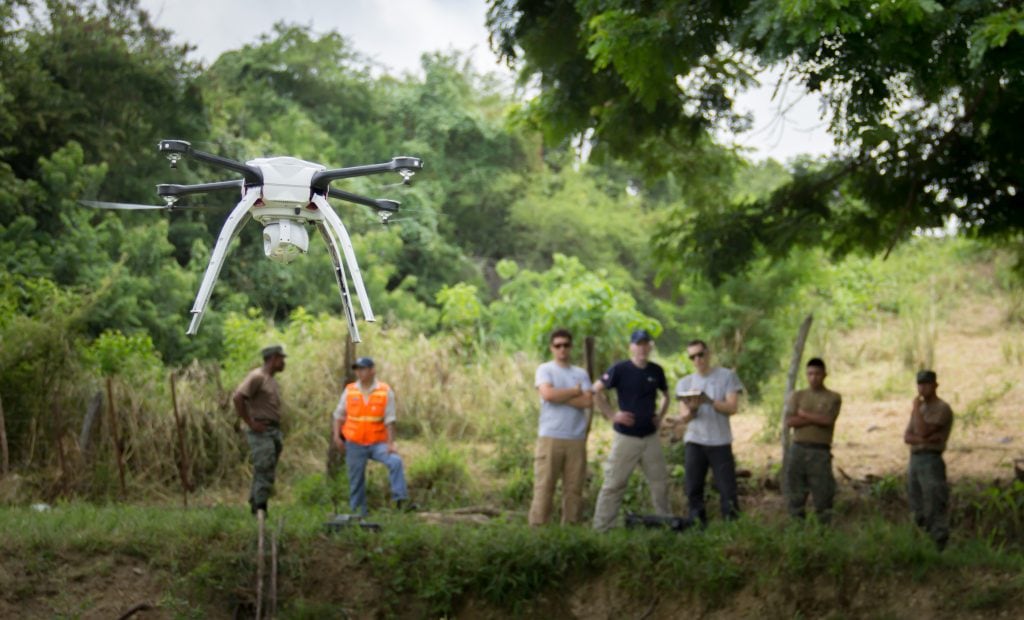 Our team can also assist in Search & Rescue operations by providing aerial imagery of disaster affected buildings, using thermal imagery to locate survivors, and using ground penetrating radar technology to scan collapsed buildings and detect signs of human life beneath the rubble.
Roads and footpaths are often blocked or destroyed for long periods of time following a disaster like an earthquake or major storm. Getting critical medical supplies, for example, into regions that are cut-off by all standard means can be a major problem. UAVs provide a possible solution for aid delivery to save lives in those areas. Over time we hope to explore the potential of using UAV technology to deliver high value-to-weight ratio aid such as vaccines and other life-saving medical supplies to disaster affected areas.
RescUAV forms technology partnerships with innovative companies and organizations that are interested in being on the front lines of humanitarian aid. We welcome the opportunity to work with industry leaders like Flir and Pix4D to help save lives. We provide a proving ground, and generate exposure and case studies that cannot be found anywhere else. If your organization is interested in getting involved with RescUAV please email us at [email protected]. Check out our volunteer page for more information about getting involved with the RescUAV team.