Severe rainfall on November 13th, 14th and 15th caused mudslides and debris flow, resulting in the closure of many highways and roads in British Columbia's interior and southern regions. The rainfall broke dozens of all-time rainfall records, with some communities seeing nearly a month's worth of rain over a 48 hour period. Entire regions of the Fraser Valley were swamped by floodwater. Evacuation orders were issued for many communities including Merritt, Princeton and Abbotsford. As of November 17th, the province declared a state of emergency stating that the storm was the worst weather to hit the area "in a century". Nearly 20,000 people had to evacuate their homes and communities faced intense shortages of basic items as stores were unable to restock due to disruptions in the supply chain.
---
NEARLY 20,000 PEOPLE DISPLACED
ROADS OUT ACROSS THE PROVINCE
---
GlobalMedic mobilized to support residents affected by the flooding. As the evacuation orders began lifting, residents moved back into affected communities and needed assistance during the early recovery phase. Supply chains continued to be disrupted and we focused on providing material aid to support households while they started to clean up and move forward from this disaster.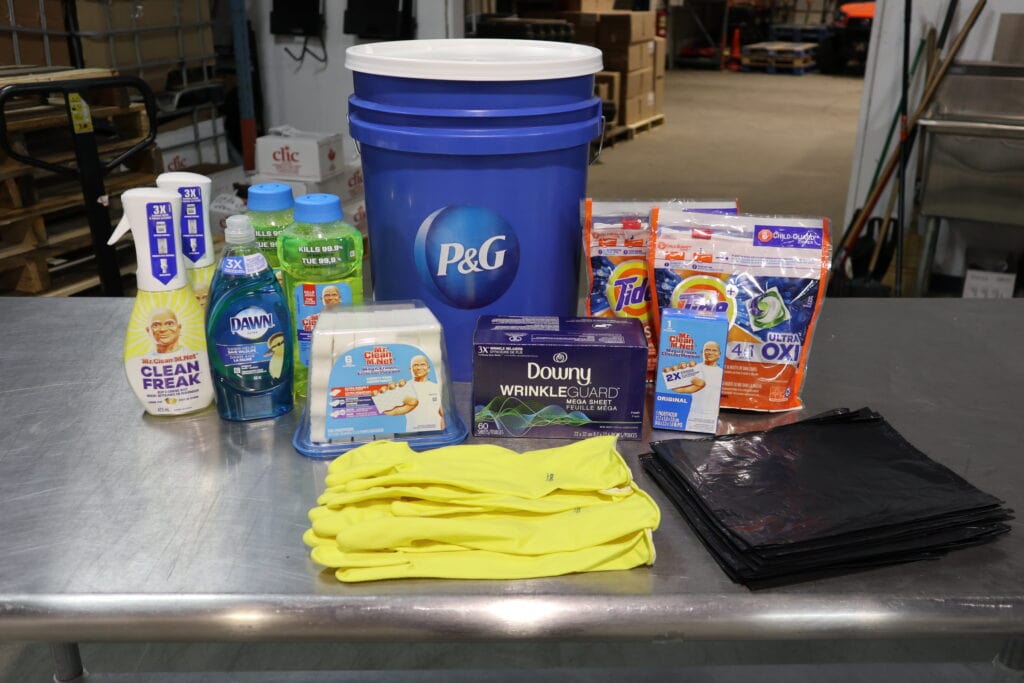 We activated GlobalMedic volunteers on the ground in BC to prepare to begin our response. At the same time, volunteers in Ontario worked to put together our first shipments of aid. We put together 407 Clean Up Kits which contained items like disinfectant, all purpose cleaners, garbage bags, rubber gloves and laundry supplies. The products for these kits were provided by our partners at Procter & Gamble. These kits were flown from Toronto to Vancouver by Air Canada and were received by volunteers. 214 kits were picked up and driven to Abbotsford where they were distributed to residents beginning the clean up process in their homes. The remaining kits were stored at an air hanger in Langley where they were taken out to communities on boats and small aircraft. As we continued to phase up our response, we sent an additional 972 kits.
In addition, we also put together hygiene kits and food hampers to provide to affected households. The hygiene kits contained items like shampoo, toothpaste and toothbrushes. The food hampers were comprised of non-perishable goods to help prevent at risk households from slipping into food insecurity. We distributed 470 hygiene kits and 1,960 food hampers. We also delivered more than 11,000 kg of our McAntony's Menu product to food banks in Abbotsford and Chilliwack to support the ongoing impact to food security created by the flooding.
We also activated a laundry program. In Abbotsford and Kamloops, we offered free wash and fold services to residents who had been displaced or who needed that support upon moving back to their homes.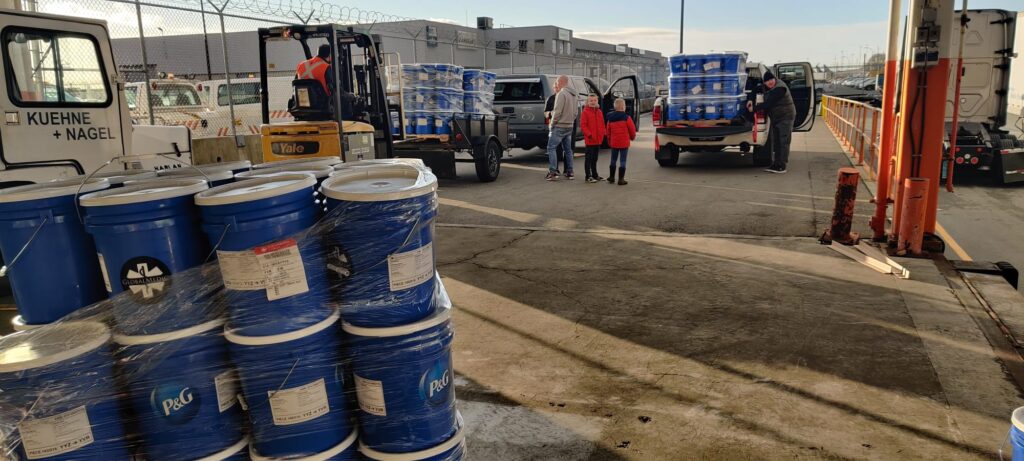 In addition to providing aid to families, GlobalMedic also supported efforts to mitigate the environmental damage of the floods. The rising water levels ended up displacing sturgeon, massive fish that normally reside in fresh water, and stranding them to flooded farms, fields, and roads. To support the Fraser Valley Angling Guides Association (FVAGA) in their recovery of the sturgeon, GlobalMedic shipped cold water rescue equipment to help them carry out the task safely. Our RescUAV team also provided their expertise to the initiative by mapping 288 hectares and capturing capturing 2,050 images of the areas in which the sturgeon were stranded. The FVAGA was able to use these images to locate the individual fish requiring relocation