Around 11pm local time on September 8, a 6.8 magnitude earthquake struck the High Atlas mountain range, 72 km southwest of Marrakech, Morocco, a city home to 840,000 people. The quake was followed by a 4.9 magnitude aftershock. This has been the biggest earthquake felt in the region. Extensive damage has been reported with buildings collapsed and critical infrastructure severely damaged; the death toll was over 2,900.
Approximately 450,000 individuals are believed to have been internally displaced. Relief operations have successfully restored crucial pathways, notably in the Ighil region of Al Haouz province. However, concerns persist regarding road access, particularly in remote locales. This is exacerbated by worsening road conditions and potential weather-related obstacles. By the end of September, primary routes in Al Haouz had been reinstated, but obstacles like traffic congestion and flight limitations persist, impeding relief endeavours.
---
---
GlobalMedic immediately deployed our Rapid Response Team (RRT) with 4 AquaResponse3 Water Purification Systems to Morocco. Following an earthquake of this magnitude, access to basic supplies becomes nearly impossible. This includes clean drinking water, with damage from the earthquake disrupting existing infrastructure such as water reservoirs. The AR3s are point-of-source water filtration devices that can provide clean drinking water to support over 2,000 people every day. These units will be installed at central locations like feeding centres and health clinics to ensure that the water being consumed at these sites is safe to drink.
GlobalMedic's Rapid Response Team is also working with local partners to run a hot meal program. We have taken over a local cafe and are producing meals daily to provide to people affected by the earthquake. Every day we are able to feed hundreds of people, ensuring they stay fed and healthy. We have distributed over 25,000 meals through this program.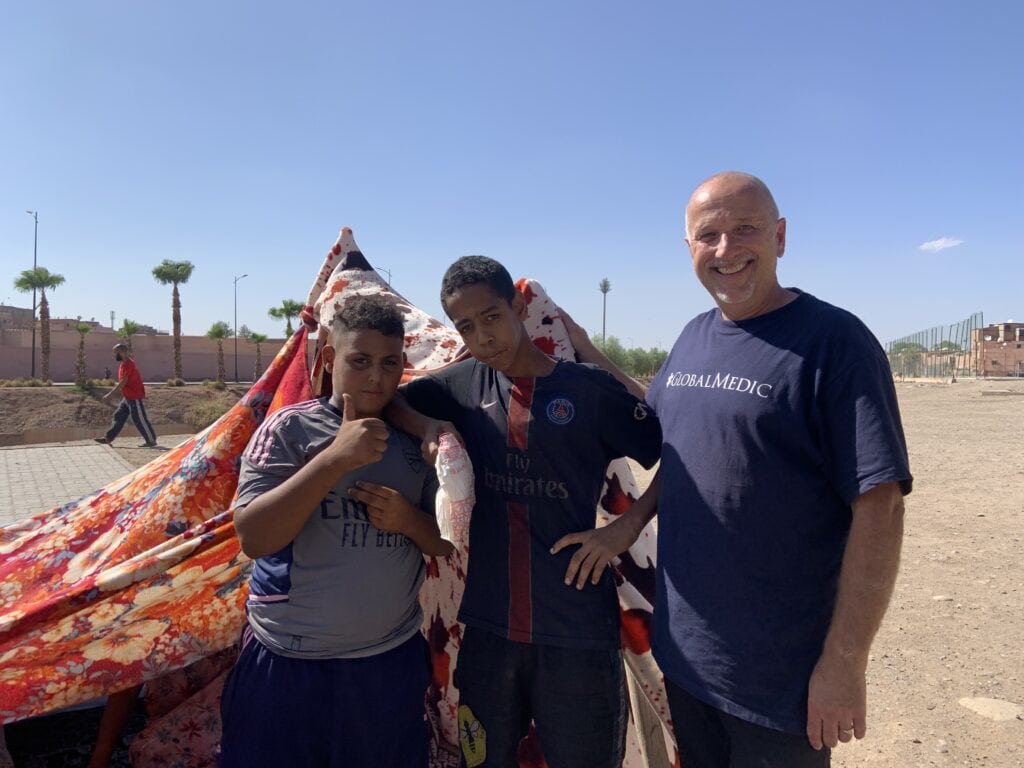 We have also been distributing pantry food hampers and fresh vegetables. All of these food items are locally sourced and traditionally found in Moroccan cuisine. The ingredients can be prepared at the families discretion and will help stock the pantries of those affected by the earthquake. To date we have distributed 1,748 food hampers and 7 tonnes of fresh vegetables to those affected by the earthquake.
After a crisis, families face many challenges. One of the tools GlobalMedic uses to support families are our Family Emergency Kits. These kits have been designed as a holistic solution to solve multiple needs faced by families in crisis. One of the biggest risks that vulnerable communities face in the wake of disasters is waterborne illness. This is caused by the disruption of safe drinking water sources, forcing individuals to retrieve their water through untreated and potentially contaminated sources. Waterborne illnesses like cholera and typhoid can be detrimental to a family's health and are often deadly. To date, we've distributed 900 Family Emergency Kits to families in need. 
GlobalMedic has also shipped an Alaska tent, which is a military grade mobile structure which can be built in hours and functions in a permanent capacity. It can be used as a mobile medical clinic, a storage facility, or a temporary accommodation. Currently, the facility has been turned into a classroom in Ouchfilene, a mountain village south of Marrakech. This was put together with help from our Partners El Baraka Angels. This will serve teachers and students whose schools have been damaged or destroyed by the earthquake.